Joanna Paul, M.P.H.
Board President
Joanna comes to the Board with a 25+ year history of leadership in the biopharma industry and as a former board member for several private non-profit charities.  During her professional career, she has held clinical compliance roles of increasing responsibility for large companies such as Amgen and Genentech, as well as smaller companies such as Allogene Therapeutics and Halozyme.  She currently owns and operates her own consulting firm, Statmetrics LLC, in partnership with her husband, David.  In addition to professional positions, Joanna has been a valued board of directors' member for patient advocacy charities such as the Center for Bioethics and Culture, Landon Pediatric Foundation and, was a founding board member for the local Conejo Valley chapter of the JDRF.  

Joanna completed her bachelors in biological science from the University of California at Irvine and her Master's in Public Health, with a focus on health services, from the University of California in Los Angeles.  She also completed coursework in Spanish literature through the Universidad de Granada, in Spain. 

Joanna and her husband David attend Redeemer Presbyterian Church in Encinitas, CA.  Living in a highly diverse area in Southern California, they are strong supporters of global missions and recognize the importance ESL in furthering the mission of Jesus by "loving your neighbors".   She considers it a privilege to serve on the inaugural board of TESOL Ministry. 
Natalie Mullen Leisher, Ph.D.
Board Vice-President
Dr. Natalie Mullen Leisher is the director of the Institute for Cross-Cultural Training where she works with Christian non-profits and their workers who are learning and teaching languages all around the world. She was an ESL teacher to adults in university settings for over 10 years, specializing in listening, speaking, and pronunciation, and has lived and served in China and Spain. Her doctorate is in Education Policy and her research interests include language policy, multilingual populations, language justice and inclusion, internationalization of higher education, and second language acquisition.
Lilian Choy, M.A.
Board Secretary
Lilian Choy is a Programs Coordinator in a regional government agency in Los Angeles, California that serves multicultural and multilingual families.  Her primary responsibilities include procurement and grant development, contract management, intergovernmental cooperation, and emergency management.  She holds a Master's Degree in Urban Planning.
Lilian also serves as Coordinator for her Community Bible Study class.
Ann Flood
Board Treasurer
Bio Coming Soon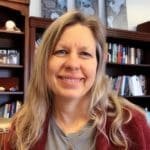 Shannon Mann, M.A.
Founder & CEO
Shannon Mann is passionate about helping people learn to follow Jesus and mature in their faith. She has a M.A. in Intercultural Studies from Golden Gate Baptist Theological Seminary, and is currently an adjunct instructor at Southeastern Baptist Theological Seminary/The College at Southeastern and Durham Technical Community College. In addition to teaching, she has worked in a variety of fields including business consulting, information technology, online marketing, website development, and quality assurance. She has over 7 years experience teaching university courses both in-person and online in the US and overseas. Classes she has taught include: ESL, Intercultural Communication, Linguistics, and TESL Internship. Shannon also serves in ministry alongside her husband, Eric, who is pastoring a church in North Carolina.